Atascosa County Courthouse
Has been selected by the Daughters of the American Revolution to receive the America250 Patriots Marker, 1 of only 2 in the State, to be installed on the Courthouse grounds April 29, 2023.
These markers celebrate the brave Patriots who founded our nation and remind us of the importance of emulating their conviction, courage, and cooperation toward national unity.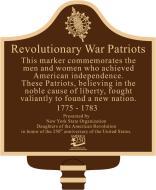 Installation ceremony will begin at 10 am in front of the Atascosa County Courthouse with a reception to follow.